P: 715-866-8644 · F: 715-866-7344

Monday-Friday: 8:30a.m.-5:30p.m. · Saturday: 8:30a.m.-4:00p.m. · Sunday: Closed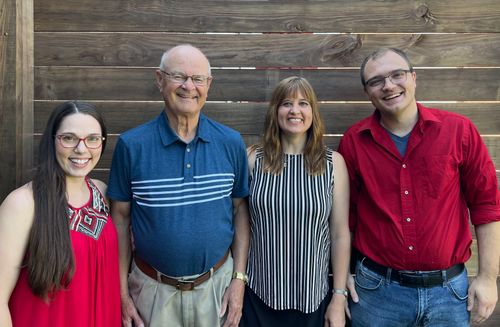 Kiah, Jim, Erica, and Wyatt
About Yellow River Pharmacy
Our pharmacy began with the Maser family. Katherine Maser owned the Converse Store from 1938 to 1954. No, we weren't the start of a famous shoe company. We were a general store, and Dr. Converse had an office in the back. In 1954 Katherine's son, George, and his wife Lillian Maser, bought the business and changed the name to Maser Drug Store. They owned it for 19 years, and to this day many of the locals come into the pharmacy and share their stories of George and Lil and the soda fountain the store used to have.
In 1973 Jack Samuelson and Pat Kennedy bought the pharmacy from the Masers, and the name changed a final time to Yellow River Pharmacy, as it is still known today. Jack and Pat owned Wood River Pharmacy in Grantsburg, as well. Also around this time my parents, Jim and Marge Olson, were in Grantsburg spending Thanksgiving and deer hunting with my mom's family. Pops shot his deer on opening day, therefore not having a lot to keep him busy at his in-law's house. He went into town and introduced himself to Jack at Wood River Pharmacy. Apparently, they hit it off because Pops offered to work so Jack could have a few days off that week, and Jack took him up on it. (I can't imagine leaving my pharmacy in the care of a stranger, but that's just me.)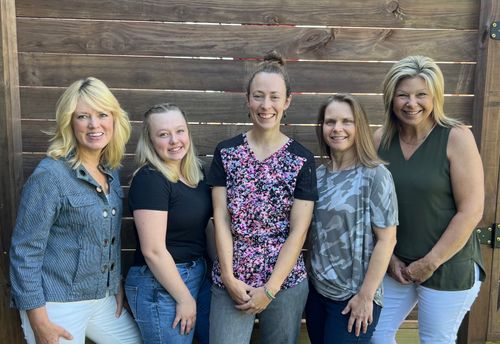 Cris, Daisy, Kathryn, Mary, and Maria
Fast forward 2 years, and Jack and Pat were looking for someone to help them run Yellow River Pharmacy, so they called Pops. He and my mom moved from Fond du Lac to Webster, and over the next few years bought the pharmacy. There weren't a lot of relief pharmacists available, so when my brother and I were growing up Pops was usually working. When we turned 12 we started working there, too, and of course my mom was always helping both at the store and behind the scenes. Needless to say, that pharmacy literally feels like home to me.
Even though Pops turned over the reigns, he's still here working almost every day. And we all keep letting him think he's in charge. He forgot to warn me, though, that I'd lose sleep over the business almost nightly (I've heard they make pills for that). But I wouldn't trade that decision for anything. It is an honor to serve our community and I am fortunate to be one who can say they truly love their job. Hopefully we can keep our little shop running for generations to come.
- Written by Erica Paffel
Trustworthy
Our pharmacy was built on providing quality and affordable pharmaceutical needs.
Pharmacy
Our pharmacists know our community and our customers. That's why we can provide you with expert, personalized care.
Experienced
Our pharmacists have experience with a wide range of prescriptions and can answer any questions you have.
Yellow River Pharmacy Testimonials
Customer service is outstanding. No matter who you deal with you get great service. They always go beyond to fill your needs!
Awesome service! These people go above and beyond the others!
Yellow River Pharmacy is our go to when the family gets sick. They have everything you would need to start feeling better and on the right track!
Yellow River Pharmacy is the best--everyone is so helpful and always very nice. They take good care of our medicine needs.
Best service anywhere - great people - healthy environment.
❮
❯
Subscribe to our newsletter 
Stay up to date with our pharmacy with exclusive content.